Walk-in Cooler & Walk-in Freezer Rental
Are you experiencing a busy season, planning an event or having a problem with your refrigeration equipment? Our mobile walk-in cooler and freezer, available for rent, will suit all your refrigerated or frozen storage needs. Whether it is for a short, mid or long-term rental, we have exactly what you need!  
Available in small, medium or large sizes, our rental walk-in coolers are delivered quickly to the location of your choice and are ready to use. They offer two options for food preservation: freezing or refrigeration. Temperatures range from -18 to 10 degrees Celsius, making them the perfect solution for storing food, beverages, lunch boxes or all other food items that need to be kept cold.
Our turnkey walk-in cooler or freezer rental service involves three quick and easy steps:
Consultation with a Baron who will guide you through the rental process in order to select the type of cooler or freezer that best suits your needs.

A Baron will deliver your choice to the desired location, whether in Quebec City or Ottawa. 

Pick-up of your cold room when the rental is complete, for an all-inclusive service.
Small Cold Rooms
Small cold rooms have exterior measurements of 9 feet long by 5 feet wide and 7 feet high. They have a storage capacity of approximately 300 cubic feet. You will never run out of space to keep your equipment or food cold!
Using just 13 amperes of electricity, all you need is a regular 110v current for our small cold rooms. In the event of a power outage, they can even be connected to a generator to continue operating normally and prevent you from losing your refrigerated inventory.
Size: 9′ x 5′ x 7′ 

Temperature : -18 à 10 °C

Electrical circuit: 110 V

Short, mid or long-term rentals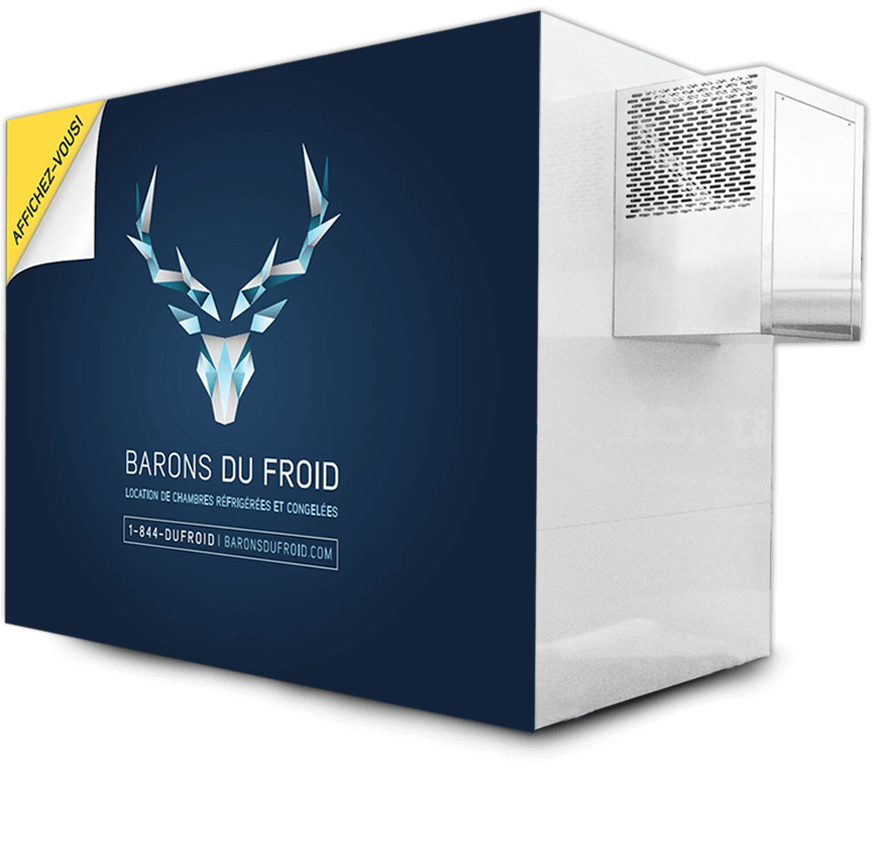 Medium Cold Rooms
Medium size cold rooms are convenient for a slightly larger storage volume. We offer medium and long-term rental of two models of medium size cold rooms: 8 feet by 10 feet and 6 feet by 10 feet.
For refrigerated use, this type of cold room requires a 110-volt power supply. If you wish to use it for frozen storage, a 220-volt power supply will be required.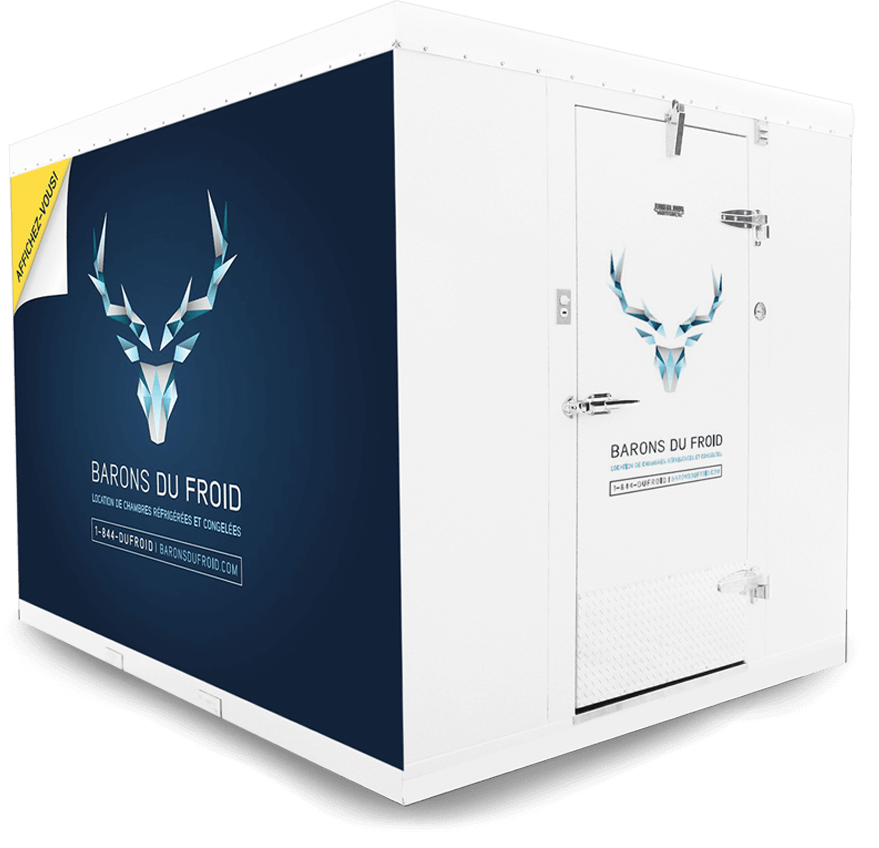 Size: 8′ x 10′ x 7,5′ ou 6′ x 10′ x 7,5′

Temperature: -18 à 10 °C

Electrical circuit: 110 V ou 220 V

Mid or long-term rentals
Reefer Containers
Do you need more space? Renting our reefer containers is the ideal solution for commercial, agricultural or industrial storage. This is a cost-effective way to quickly expand your refrigeration facilities.
This type of container can be used for refrigerated or frozen storage with a suitable 480-volt or 3-phase power supply. You may choose a reefer container with a cold room or garage door, depending on your storage needs. We also offer rental of 600/480 volt transformers to power this type of equipment.
Size: 8′ x 20′ x 8′, 8′ x 40′ x 8′

Temperature: -18 à 10 °C

Electrical circuit: 480 V, 3 ph

Mid or long-term rentals
CONTACT US
Chambres froides - Location [EN]
WE DELIVER EVERYWHERE IN QUEBEC AND OTTAWA, ONTARIO
contact us